Inclusive Workplaces | 5 Min Read
Rights for Persons with Disabilities Act 2016 (RPWD16): What it means for private sector organizations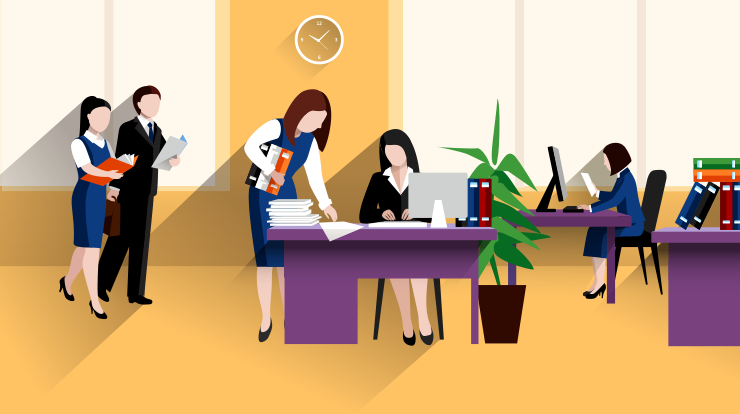 The Disability Rights movement took place quite late in India – in 1995 to be specific when the PwD Act (1995) came into existence. Though India was one of the early signatories to the UN Convention of Rights of Persons with Disabilities (UNCRPD) in 2007, implementation of the UNCRPD guidelines was not carried out and not much changed in the lives of people with disabilities. Twenty years after the PwD Act came into being, the Accessible India Campaign was launched to fulfill some of the commitments of UNCRPD. This campaign was focused on making public places, transportation, information, and communications accessible for people with disabilities.
The Rights for Persons with Disabilities Act 2016, which replaced PWD Act, is a piece of legislation that contains a number of rights and entitlement for people with disabilities. The opening sentence of the Act state that it is an Act to give effect to the United Nations Convention on the Rights of Persons with Disabilities and for matters related to it.
Some of the highlights of the Act –
1) It ensures that persons with disabilities enjoy the right to equality and non-discrimination in all aspects of life. They have the right to life with dignity and respect for their integrity as equally as others do.
2) It is the first time that a person with a disability has been clearly defined as a person who has a long term physical, mental, intellectual or sensory impairment which, coupled with different barriers around him, hinders his full and effective participation in society equally with others. Besides this, the Act also defines that a person with 40% disability is a person with benchmark disability. Similarly, there is a definition of people with high support needs.
3) The number of disabilities that are recognized has increased from 7 to 21, which includes physical, sensory, intellectual, learning disabilities, multiple disabilities, disabilities due to blood-related disease, acid attack survivors and people with dwarfism etc. Please read The Schedule of the Act for all disabilities outlined by the Act.
4) Since the Act calls for non-discrimination, it ensures equality and non-discrimination in all aspects of life, including education and employment. For the first time, the Act has a clear mandate for Private sector organizations. The Act uses the term 'Establishment' time and again, which means both government and private sector organizations.
5) Chapter IV of the Act has provided a clear mandate for private sector organizations. Though the law does not mandate a quota or reservation for hiring persons with disabilities for the private sector, it has mandated 5% quota for public sector and government organizations. However, there are other provisions that all private sector organizations have to adhere to.
6) Organizations have to ensure non-discrimination in employment for persons with disabilities – there should not be direct or indirect discrimination. An example of direct discrimination is denying a job on the basis of disability. An example of indirect discrimination is the denial of reasonable accommodation that enables a person with a disability to perform their role.
7) The Act mandates that all the organizations must have an equal opportunity policy for people with disabilities and should display it on their website or at conspicuous places in their premises. Organizations that have more than 20 employees must register a copy of the said policy with the Chief Commissioner or the State Commissioner, as the case may be.
The policy should include:
List of roles identified for people with disabilities
Facilities and amenities provided
The process of selection, hiring, training, promotion, preference in transfer & posting, special leave, and any other facility.
Provisions for assistive devices, barrier-free accessibility etc.
The organization must depute a liaison officer to look after the recruitment of persons with disabilities and provisions of facilities and amenities for such employees.
Companies must maintain records of persons with disabilities, number of employees with disabilities, type of disability, roles assigned to them, assistive devices and other facilities provided to them. The data must be produced for inspection to the concerned government authorities.
The Act also mandates that there must be a grievance redressal mechanism in place to address the complaints raised by employees with disabilities.
Corporates must ensure accessibility of infrastructure, transport, web, and information as well as adhere to the following standards:
8) Standards for physical infrastructure as specified in the Harmonised Guidelines and Space Standards for Barrier Free Built Environment for Persons with Disabilities and Elderly Persons as issued by GOI, Ministry of Urban Development in March, 2016.
9) Standards for Information and Communication Technology:
Website standard as specified in the guidelines for Indian Government websites, as adopted by Department of Administrative Reforms and Public Grievances, Government of India;
All documents to be placed on websites shall be in Electronic Publication (ePUB) or Optical Character Reader (OCR) based pdf format:
10) The Act has provided timelines by which it should be achieved
No new building would be given completion certificate if these standards are not followed
All existing buildings should become accessible within 5 years of the notification of the rules, i.e. by April 2022.
11) All private service providers must start providing services in line with the accessibility guidelines as mentioned in the Rules within a period of two years from the date of notification of the Rules i.e. within or before 15th July 2019.
12) Chapter 16 of the Act highlights penalties for individuals who violate the provisions of this Act. It puts the onus on the officials of the company for any offense committed by the company. Any person who violates the provisions of the Rights of Persons with Disabilities Act or of any of its Rules for the first time will be punishable with a maximum fine of INR 10,000/-. If the same person violates any provisions of the Act or any of its rules for the second time or more, the same will be punishable with a fine ranging between INR 50,000 to INR 5,00,000
As mentioned above, there is no such quota for hiring people with disabilities. However, having a sensitized employee base, a conducive and accessible ecosystem in place, and mandating non-discrimination pushes organizations to be more inclusive.
You can reach out to me for any further information and the clarification about the Act at abha@socialequity.co.in
"Being disabled should not mean being disqualified from having access to every aspect of life." Emma Thompson
[et_pb_posts_carousel_agsdcm category_id="6″ max_title_characters="100″ _builder_version="3.21.1″][/et_pb_posts_carousel_agsdcm]